L'uscita prossima del Dampyr Movie, ossia il primo film del Bonelli Cinematic Universe, dà ufficialmente una nuova caratura internazionale all'ammazzavampiri di casa Bonelli. Noi di FumettiAvventura seguiamo fin dalle nostre origini la serie Dampyr a cui stiamo dedicando anche il Dampyr Index. Quello che qui potete leggere è un piccolo supporto per i nostri utenti di lingua inglese: la traduzione della nostra presentazione della prima avventura di Dampyr. E se volete qualche notizia in più sul film… iscrivetevi alla nostra newsletter.
Introduction: A graphic novel that turns into a best selling comic series. A strong 'audacious' reflection on war, evil, injustice. A story that continues today after its debut in April 2000.
This is the first adventure of the Dampyr Harlan Draka, son of the Master of the Night Draka. The Masters of the Night, known also as 'arch-vampires', feed on the blood of men and have divided the Human Earth into hunting areas. They follow two simple rules: to maintain secrecy towards men about their existence, and not to kill each other. Draka, Harlan's father,  is one of the most powerful Masters of the Night. 
The only one who can defeat them with his killing blood is the Dampyr, an half-human and half-vampire creature. 
But who are actually the Masters of the Night and what are the Dampyr's powers and tasks? It will be discovered little by little in the first numbers of the series. The first story  is the work of Mauro Boselli and Maurizio Colombo (co-creators) and  the drawings are of Majo (Mario Rossi).
The devil's son – Dampyr n. 1
Publishing date: April/May 2000
Writers: Mauro Boselli e Maurizio Colombo
Penciler and Inker: Majo (Mario Rossi)
Covers: Enea Riboldi
Pages: 188
Characters: Harlan Draka (the Dampyr), Kurjak, Tesla, Yuri, Istvan, Lajos, Gorka, the Three Old Women, Draka, Radek.
Place: the BalKans (nothing else is specified).
Time: the present (end of the '90th, beginning of 2000); description of Harlan's early life (between 1945 – birth – and the 1950s).
Plot: [D1] Plot: [D1] In an unspecified war zone in the Balkans, the troop of rebel soldiers led by Kurjak is ordered to keep under control a small village, Yorvolak. Here the war scenario takes on unusual characteristics: most of the inhabitants died slaughtered in an inhumane way, after having barricaded themselves in the church. Even a rebel soldier died holding a cross in his hand, without even trying to defend himself with a rifle. The only dialogue that Kurjak's company manages to have is with an old woman:  she talks about the "devil" who brought death to the country and can be defeated only by  Dampyr.
The old woman is killed with a blow to the head by Istvan, a violent fellow soldier of Kurjak troop. The first night spent in the ghost town proves fatal for many soldiers: they are killed by the un-deads of Gorka. He is a Master of the night and is controlling that territory. The ruthless Balkan  war that was going on is an ideal protection for his violent acts.
Among the un-deads there is Tesla, a young girl of German origin, transformed by Gorka into an un-dead. In the morning Lajos, another Kurjak companion, invites everyone to leave the village because he fears the vampires. He seems to be the only one to believe it. Istvan refuses to leave, and Lajos wants at least to have an ally: the Dampyr. 
Harlan Draka finally appears in a dreamlike scene. Harlan's visions are a constant feature of the character: he will discover a lot about himself and his nature through them. In this vision, Harlan witnesses his birth and the death by childbirth of his mother: this happens in the presence of Three Old Women: they will take care of him as tutors and  will protect him from the influence of his Father Draka. They want  to keep him free to choose which way to follow, whether that of good or that of evil.
However, when he is summoned by soldiers who are under attack by real vampires, Harlan finds out the truth: he is a Dampyr. While trying to destroy a terrible Master of the Night, he will have to learn to manage his powers and find out more about his mysterious origins.
When he wakes up, Harlan finds himself in a battered car in the company of his friend, a boy called Yuri. Yuri and Harlan wander the countryside shamelessly making money pretending to be a Dampyr (half-human and half-vampire) ridding villages of what the villagers naively believe to be evil monsters.
They stunt charlatan numbers (who promise to free them in exchange for money): Harlan introduces himself as the Dampyr, who chases away the evil eye. Lajos comes, picks up Dampyr from this ritual, and brings him to Kurjak who explains that they are under attack by real vampires. Harlan is  forced to spend the night outdoors. He denies having any special  power, apart from an exceptional resistance to aging; in fact he was born in 1945 and appears even younger than thirty years. 
That night Harlan finds out the truth: he is a true Dampyr and the first to notice it, is Tesla: she is about to bite him, but she perceives he is not completely human. In the ensuing  SCUFFLE with five other un-deads, Harlan kills one with his blood and captures Tesla.  He then locks her in the church, away from the sunlight which turns the un-dead into ashes.
Tesla confirms with Harlan that he has a dual nature as Dampyr, and reveals that it is Gorka who acts in that area. Furthermore, even if Kurjak is very skeptical, Harlan accepts the alliance proposed by Tesla. She believes that the Dampyr has the power to free her from Gorka's control. Harlan thus creates for the first time  bullets and knives enhanced with his bewitched blood. In the final battle Harlan, Kurjak and Tesla win against the troops of Gorka  and Gorka himself, who is injured in the eye by Harlan's poisonous blood. Gorka flees and he is astounded because he cannot mentally subdue the Dampyr. 
In the final pages, Harlan swears that he will get even with Yuri's death.  Gorka, in fact,  killed and transformed Yuri into an un-dead in order to kill Harlan.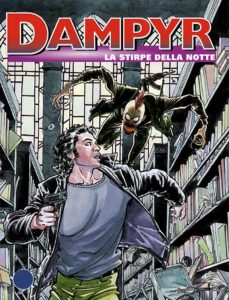 Night tribe- Dampyr n. 2
Plot: [D2] The scenario changes. Harlan, Tesla and Kurjak have moved to the City (even in this case there are no precise geographical references) in search of Gorka and his troops.
The un-deads of Gorka go on doing violent acts, but they manage to keep them hidden by bombs, snipers, and blood of the war.  Dampyr and his team succeed in eliminating four un-deads quite easily. During the night Harlan has a long nightmare.  He sees himself as a child, a victim of  teasing by his peers; in fact, his diversity was somehow perceived by the others. He then dreams of the Three old Women, his tutors, and has the first clear vision of his father. He is riding a horse, and is in sixteenth-century armor, and there is a war in the background. Then, he is riding a motorbike and invites Harlan to follow him. Little Harlan finds himself  in the dead world of the Masters of the Night, and the dream finally turns into a scornful dialogue with Gorka, who states that he is ready to face him, because he now knows who he is.
Upon awakening Harlan finds himself in front of Tesla: she is pointing a gun at him because she is under Gorka's remote mind control. Harlan manages to make her give up. He wins Gorka's mind control and makes her aware of the 'slaughterhouse' in which Gorka is.  Despite this, Tesla is worried that she can really kill Harlan and decides to walk away from the two men. Harlan and Kurjak look for clues to find where the  "slaughterhouse" is located. In the meantime they come across a sniper, who is eliminated by Kurjak; Harlan has another vision: he talks to an old woman, a sniper victim, who reveals that "the slaughterhouse" is located under the central library of the city. Tesla is there , she has been prisoned by Gorka, who is torturing her.
After killing a group of un-deads with the help of Kurjak, Harlan goes down to the "slaughterhouse".  Here he manages to defeat Radek, a war criminal: he was turned into an un-dead by Gorka, just to kill Harlan. In the final confrontation Harlan experiences the power of the Masters of the Night: they are shapeshifters and incredi. Following Tesla's suggestion, he turns the situation to his advantage and kills Gorka with a fatal bite of his blood of Dampyr. Then he rescues Tesla by wrapping her in a large tent.
The alliance of the new trio of heroes is sealed by Kurjak: he offers Tesla some of his blood  to recover from the wounds inflicted by Gorka's torture. A declared war to the Masters of the Night begins  after the discovery of some books of Harlan's father: an elderly nun servant of Draka handed them over to Harlan before dissolving in ash in a secret room of the library.